October 17, 2022
Commentary: NCM Dividend Champions
On October 17, 2022, Portfolio Manager Michael Simpson shared where he thinks we are in the market and economic cycle and how he's managing NCM Dividend Champions
Transcript:

Hello. My name is Michael Simpson, and I'm the portfolio manager of the NCM Dividend Champions fund. For people familiar with NCM, thank you for your support. Let's start talking about the market.

We are in a bear market, but all is not gloomy. Bear markets eventually end and give way to stronger bull runs. In our humble view, we are 80 to 90% through this bear market phase. Some numbers to consider. Year to date as of October 14th, the Nasdaq, the technology-heavy Nasdaq, is down 34%. The S&P 500, 24%. And the TSX, the best of our worst lot, is down 13%. For those market statisticians, the TSX is not in a bear market but in correction territory. Canada is the best market in an ugly tape. The TSX has produced its best relative performance versus the S&P 500 in over a decade, so Canada is no longer lagging the US and it's time to invest. It's time to come back to Canada.

Before we go further, let's try and discern how we got here. In March 2020, the World Health Organization declared a global pandemic because of the COVID-19 virus outbreak. This public health emergency was followed by a reduction in interest rates to record lows of 25 basis points. Due to restrictions in economic activity and closures of business, governments around the world gave out record amounts of fiscal stimulus. That is money for those who are unable or displaced from work. This fiscal stimulus was spread liberally and led to artificially high saving rates that allowed people to spend money, sometimes like drunken sailors. The majority of citizens being subject to lockdowns began to buy fiscal goods.

M2, a key measure of money supply, along with broken and disrupted supply chains, caused inflation to rise. Central banks were very slow to react to the inflation wave and were forced to act very strongly in 2022. The Canadian bank rate is at 3.25%, similar to the US Fed funds rate at 3.25%. So many people have experienced rapid interest rate increases so far in 2022. We've had find most people have experience with Bank of Canada increases of 25 basis points. But in some instances, we've had increases of 75 basis points.

Our view at NCM is that the Bank of Canada rate will rise somewhere between 4 and 4.25%, so we're close to the end of the tightening cycle. Remember, tightening cycles don't last forever, and it is our base hypothesis that we're not in a 1970s period of inflation. If you look at more recent economic data, you can clearly see that the Bank of Canada's earlier rate increases are working to slow the economy. The current government of Canada bond yield is at 3.39%, having peaked in June at 3.62%. If you go back 40 years, the average rate on the Government of Canada 10-year bond yield is around 4.4%. So we're still lower than the average historical standard, and there's no reason that you should sell your equities to go elsewhere. Equities, especially in a country like Canada that has good equities that have some inflation advantage, are a good place to go for cash flow and increased dividends.

So you may ask, "Mike, why are you bullish in Canada?" Canada is cheap, trading at 11 times forward earnings in the US. The S&P 500 is trading at 15.4 times. Better opportunities abound in Canada. Further evidence comes from BMO research that shows when the TSX is trading below 12 times earnings, the average one-month return is 1.6%, the two-month return is 2.7%, and the three month return is 3.6%. Starting in mid-November, there's a possibility of a Santa Claus rally, especially when the market is down for the year. Going back to 1935, the fourth quarter has been the strongest quarter with a TSX rising on average by 3.1%. In 15% of all the instances, the fourth quarter returns have ranged from 10 to 15%. That's pretty good. And consider what happened earlier in the year. Can't make predictions on how the market will perform in Q4, but are we due a bounce? Is the market oversold? Definitely, yes. The mixed volatility index peaked on October 11th at 33. Lastly, in 11 of the last 18 market corrections, the bear market saw double dig returns three months after the market trough.

The NCM Dividend Champions fund is well positioned with 9% cash, and we are selectively buying dividend champions, solid companies who in this market downturn are now yielding 5 to 6%. We see the Canadian dollar in a trading range and currently have 50% of our US dollar exposure hedged. Tax-loss selling season may present some additional buying opportunities for us in the NCM Dividend Champions fund. The recession that is forecasted for 2023 will be mild, and rates will have peaked before the recession has been declared. The problem central banks have is that they use stale data. They would be better off using high-frequency data. The high-frequency data shows that economic growth is slowing.

In conclusion, we thank you for your support. Stay invested. Stick with the Dividend Champions, and we will continue to work hard and search for the dividend streams that continue to grow year after year.
Disclaimer

The information in this video is current as of October 17, 2022 but is subject to change. The contents of this video (including facts, opinions, descriptions of or references to, products or securities) are for informational purposes only and are not intended to provide financial, legal, accounting or tax advice and should not be relied upon in that regard. The communication may contain forward-looking statements which are not guarantees of future performance. Forward-looking statements involved inherent risk and uncertainties, so it is possible that predictions, forecasts, projections and other forward-looking statements will not be achieved. All opinions in forward-looking statements are subject to change without notice and are provided in good faith. Commissions, trailing commissions, management fees and expenses all may be associated with mutual fund investments. Please read the prospectus before investing. Mutual funds are not guaranteed, their values change frequently and past performance may not be repeated.
Author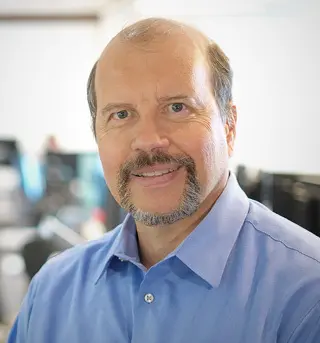 Michael Simpson, CFA
Michael is one of Canada's most accomplished dividend investors and the Portfolio Manager of NCM Dividend Champions.